Nepali consumers can now use India's international payment system RuPay in Nepal after its recent launch. PM Deuba, in his official visit to India, jointly launched the popular payment system with his Indian counterpart Narendra Modi.
RuPay cards can be used at POS machines, and ATMs or they can also be used through banking apps and digital wallets for transactions.
Upon the launch, India's PM Modi said, "Introduction of RuPay in Nepal will add a new chapter to our financial connectivity."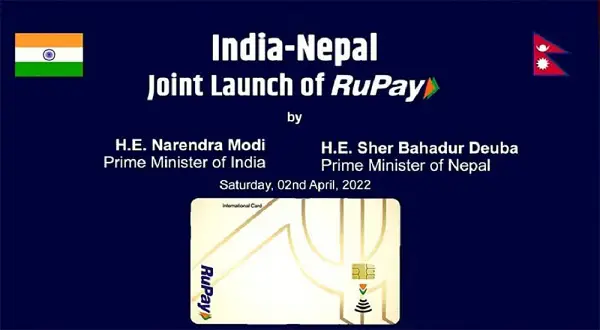 The cross-border payment that RuPay allows will open up new horizons for Nepali's financial capabilities while also promoting India's tourist flows to Nepal with payment convenience. Likewise, it creates a dimension between the two countries for cooperation in financial connectivity.
RuPay was launched in 2012 to realize the Reserve Bank of India's multilateral payment system and serve as an alternative to foreign services such as Visa, and Mastercard. Likewise, Nepalese could also be able to use RuPay as an option for those foreign financial services in Nepal. Although the complete scope and modality of its uses of it will be known later.
Also read: Cross-Border Payment with Global IME's QR Scan
RuPay in Nepal
The launch comes on the back of a Nepal SBI Bank and Nepal Rastra Bank's effort. Both entities have been working on this initiative for over 1 year.
RuPay could be used at POS, banks, and ATMs in Nepal. There are over 1400 such machines throughout Nepal.
Nepal is the fourth country to adopt RuPay outside India. Before this, Bhutan, Singapore, and the United Arab Emirates (UAE) has already accepted Indi's global payment system.