RI Hackathon is an upcoming nationwide event happening from 17th to 19th December. RI stands for Renegade Insurance which is a multi-trillion market focusing insurance brokerage company based in the US. Mr.Rashik Adhikari & Mr.Doug Rowe are the founders of this company. RI Hackathon is inviting all of the aspiring developers throughout the country and they will compete for a chance to win 1 lakh Nepali rupees. Let's know more about RI Hackathon below
What Exactly Is A Hackathon?
Hackathon is an event where various numbers of developers, graphic designers, domain experts, project managers gather to collaborate on specific digital software projects. In simple terms, technically skilled developers meet & work at a place to plan, discuss and create a software product in a period. Also, the goal is to create a working product by the end of the event. Hackathon requires skilled personnel from all levels for developing a product.
Do Read: WorldLink Invests in Khalti | Goal For Financial Inclusivity
About RI Hackathon
Renegade Insurance is making it happen for enthusiastic developers around the country from December 17th to December 19th. RI Hackathon's form is already available from December 1st. Aspiring developers are getting a good chance here to nurture, improve & show their skills in one of the biggest Hackathons in the country. Also, the prize money is 1 lakh rupees to compete and inspire the developers. The company is calling developers of all skills levels and aims to bring out the best in them.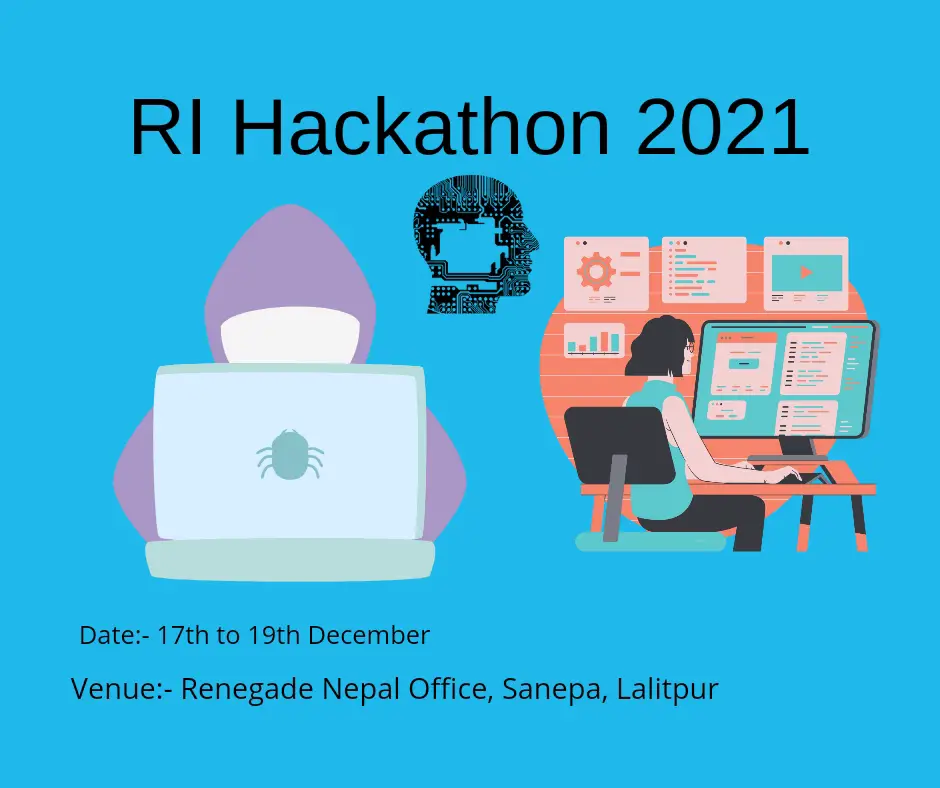 Partners for RI Hackathon
A Hackathon requires multiple sources to be conducted. For RI Hackathon, the partners are Girls in Tech, Women in Big Data, and Genese Cloud Academy. Girls in Tech is a global nonprofit organization working for empowering women in technology. While Women in Big Data is als9 an organization empowering females in the data technology field. It is indeed a good thing to involve female tech enthusiasts to do more in tech as well. This ensures adequate gender participation for the RI Hackathon.
Check out: Top 10 Online shopping sites in Nepal
Words From Head of Engineer
Mr.Abhinav Mishra is the head of Engineer for Renegade. He said in a statement, "At Renegade, we are committed to giving back way more than what we have got from the developer communities. Conducting a Hackathon is our way of giving this commitment an expression".
RI Hackathon Snapshot
Type of Event:- Hackathon
Date:- December 17th to December 19th
Venue: Renegade Nepal Office, Sanepa Road, Lalitpur
Participation Level Criteria:- From Novice to Expert
Group Size:- Minimum 2, Maximum 4 (At Least One Woman in a Team is Preferable).
Open For:- Nationwide Participants
Entry Fee:- Free
Prize Money:- 1 Lakhs Nepali Rupees
So what do you think about this nationwide Hackathon by Renegade? Are you also a developer and will you be participating? Please leave your valuable thoughts in the comment section below.