People will be able to receive a date from courts online beginning on Baisakh 1st. The special court has released a statement that people can go to either the high court or district court and get the hearing date online.  
"As per the court's meeting dated 2078 Chaitra 13, the public can go to High Court or District Court, to their convenience, and obtain date online", the statement read. Likewise, the Special Court has also designated Coordinators and liaisons person to facilitate the public regarding the online system.
The statement further reads, "The format of the form is attached in the PDF format as per Schedule-2 that shall be submitted by the public seeking date online."
Also read: Check Your Voter ID Card Online in 6 Easy Steps
Date from courts online
The Special Court has also provided the names of the coordinators and liaison contacts in its statement. Find their details below:
Section officer – Bhupendra Upadhyaya (Supervisor) 9841980127
Section officer – Yagyaraj Regmi (9851198258)
Technician for online system help – Taamlal Bhusal (9841209093)
The Special Court has also conveyed the matter to all the High Courts and District Courts for the facilitation regarding online date system.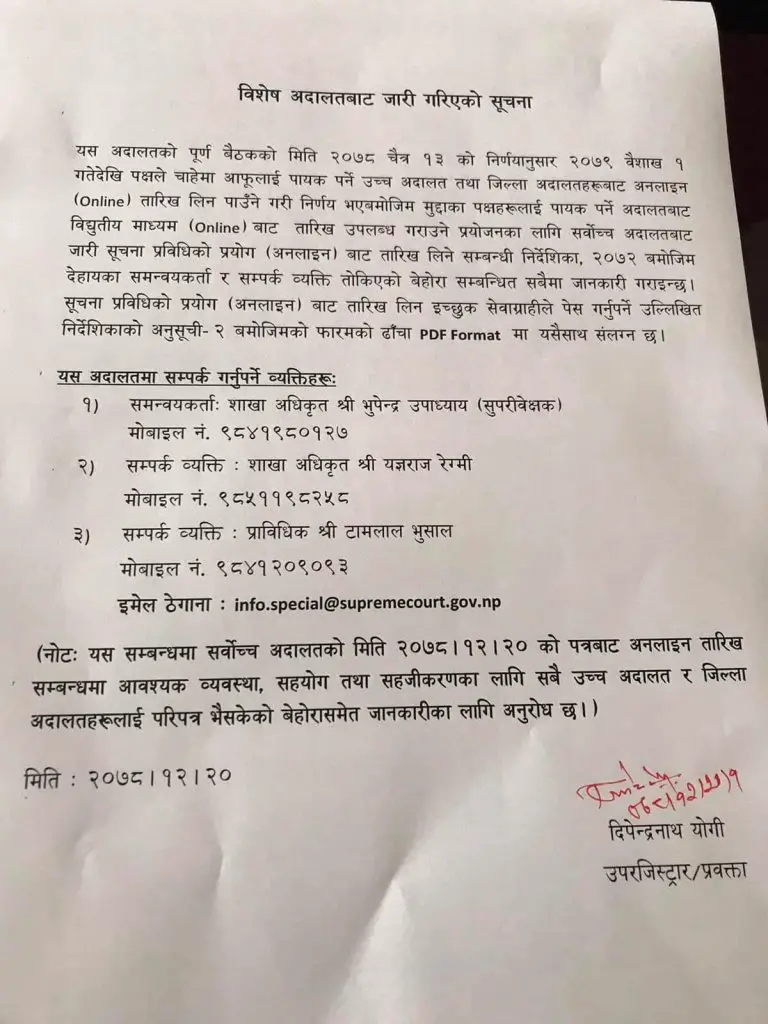 The system is convenient for people familiar with basic internet and has a smartphone or a computer. They don't have to knock on the courts' periphery to get the date for their cases. they can find them online.
Don't forget to read: National ID Card Project Speeds Up | 30 Lakh to Receive the Smart IDs First
Should the government do more to proliferate digital transformation in the court system? Also, how do you like getting a case date from courts online? Do share your perspective in the comments below.