Nepal Telecom (NTC) has launched the service of paying bills for various services through the QR code of the 'Namaste Pay' wallet. The company has introduced the digital payment facility at all the counters in its Sundhara and Babarmahal branch offices.
The telco launched the service today during an event held at Sundhara and Babarmahal. Sabina Maske Pradhan, Director of Nepal Telecom, Regional Directorate Kathmandu, Bagmati Province, and Pravin Raj Pokharel, CEO of Nepal Digital Payments Company exchanged the agreement papers of this collaboration.
On the occasion, Director Pradhan inaugurated the service by paying the bill through a QR code. He said, 'Nepal Telecom has taken the first step to encourage digital payments at its counters. Users will now be able to pay bills using Namaste Pay's QR code. The service will reduce the hassle for users of having to go to the bank to withdraw cash and will help make bill payment easier and faster.'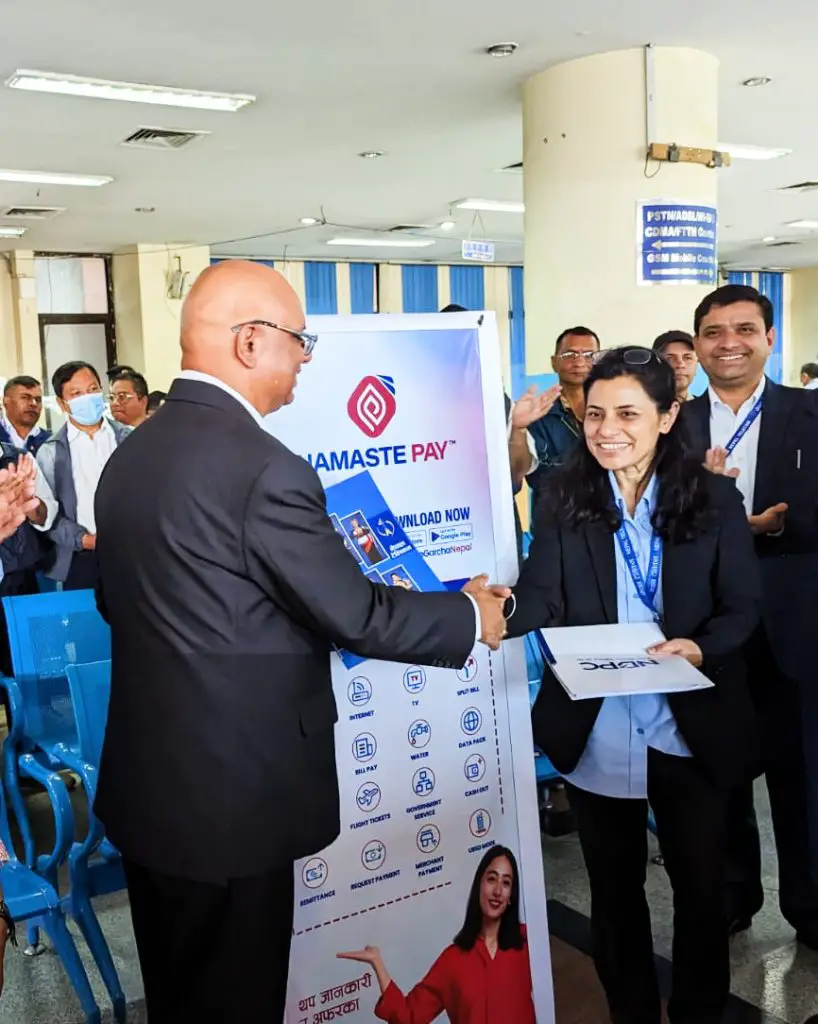 Pravin Raj Pokharel, CEO of Nepal Digital Payments Company (Namaste Pay) said, 'We are happy to have the opportunity to provide digital payment services and we are encouraged to cooperate more in the future. It will play a significant role in creating a cashless society. Providing simple and secure digital payment services through the use of modern technology will play an important role in providing modern financial services to banks and all consumers who have access to digital technology and those who do not."
On this occasion, Krishna Prasad Bhandari, outgoing CEO of Nepal Digital Payments Company, Shalikram Subedi, Manager of Information System Associate Directorate, and Dinesh Chandra Panthi, Head of Telecommunication Office, Sundhara, expressed their happiness about the launch of the service and provided necessary information about the service.
Check out: Top 5 Digital Wallets in Nepal: Updated (2023)
Nepal Telecom bill payment with Namaste Pay QR
At present, bill payment can be done using Namaste Pay's QR code at Ntc's Sundhara and Babarmahal counters. This service will be extended to other offices in the future. It has also been arranged that both new and existing users of the company will get 10 percent cashback in their wallets for paying through QR.
Nepal Digital Payments Company, run in collaboration with Nepal Telecom and National Commercial Bank, is operating 'Namaste Pay'.