Nepal Clearing House Limited (NCHL) has created another record in digital transactions, this time of over 78 Kharab in 6 months. These transactions are the record within the first 6 months of the current FY 078/79 and were performed by its customers in its 3 different channels.
The company recently published its first 6 months report. It showed the company recording the transaction of over 78 Kharab and 89 Arab. Meanwhile, the total sum was reached over 41 lakh and 90 thousand transactions.
Check out: eSewa Vs Khalti: Comparing Two Major Payment Service Providers in Nepal
NCHL ECC -The Highest Payment Processor
NCHL has so far 3 different platforms to offer digital transactions – NCHL ECC, NCHL IPS, and Connect IPS. The report showed NCHL ECC accounting for the highest transactions.
The ECC is an "image-based" check processing and settlement solution. With this system, an original paper cheque is converted into an electronic image for digital transactions. In its report, NCHL ECC accounted for 55 Kharab transactions over the 6 months period. This was completed in 80 lakh, and 66 thousand times of instances.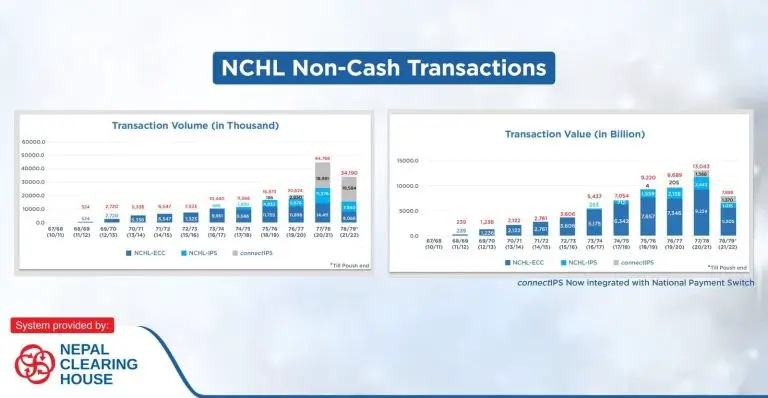 Likewise, Connect ISP accounted for the second-highest transactions in the same period. It completed the transaction of 13 Kharab, and 70 Arab in 85 lakh, and 84 thousand instances.
Don't miss: Namaste Pay Partners NCHL To Grow Digital Payment Eco-System
At third, is NCHL IPC. It made the total amount of 10 Kharab, and 15 Arab transactions over 75 lakh, and 40 thousand instances.
NCHL's transactions record is reflective of the country's growing practice of digital payment. Since COVID-19, the cashless system has risen from banks and financial institutions to everyday consumerism. Together with NCHL's three channels of electronic transactions, digital wallets such as eSewa, and Khalti, and payment processors such as FonePay, Nepal has gone from ash to cashless payment over the last few years.
Cheaper internet and smartphone apps have made online payment the go-to medium. This is likely going to hit new milestones in the coming days.