Nabil Bank launched the Nabil Gen Alpha scheme at an illustrious press conference. The leading private commercial bank unveiled the children-oriented project on the occasion of Children's Day. The multipurpose saving plan aims at enhancing financial literacy among children.
The app was launched in the presence of the scheme's brand ambassador social worker Prinsa Regmi, the bank's chairman Upendra Paudyal, CEO Gyanendra Prasad Dhungana, and other key figures.
Mr. Paudyal said the saving account will help promote financial literacy among the budding children of Nepal. "The children who spend most of their time on mobile games will be able to learn something new with the Nabil Gen Alpha scheme, Paudyal said, "with it, children will learn the value of money from an early age."
Similarly, the bank's CEO Mr. Dhungana reiterated that the plan is to help inspire financial knowledge among the youngsters. He also shared those children will be able to save their money in the digital khutruke (piggy bank), the amount that they have saved on a physical one.
Deputy CEO Sujit Kumar Shakya said the Nabil Gen Alpha scheme is the bank's design to financially empower the country's new generation. "Children will be able to use the time more positively on the phone and also learn from it," he said.
Prensa Regmi, the brand ambassador of the Nabil Gen Alpha scheme said it will help youngers like her to learn from mobile phones instead of just playing games.
Also read: Nabil FoneLoan Service Starts, QR Merchants to Benefit
Nabil Gen Alpha to promote financial literacy among the youngsters
Besides knowledge about finance, Nabil Gen Alpha familiarizes children with information relating to daily work, culture, responsibilities, etc. The bank says it will also recognize participants with awards for reaching their "assignments" from within the app.
People up to the age group of 18 can participate in the scheme. The Nabil Gen Alpha app is available on Play Store, and iOS both.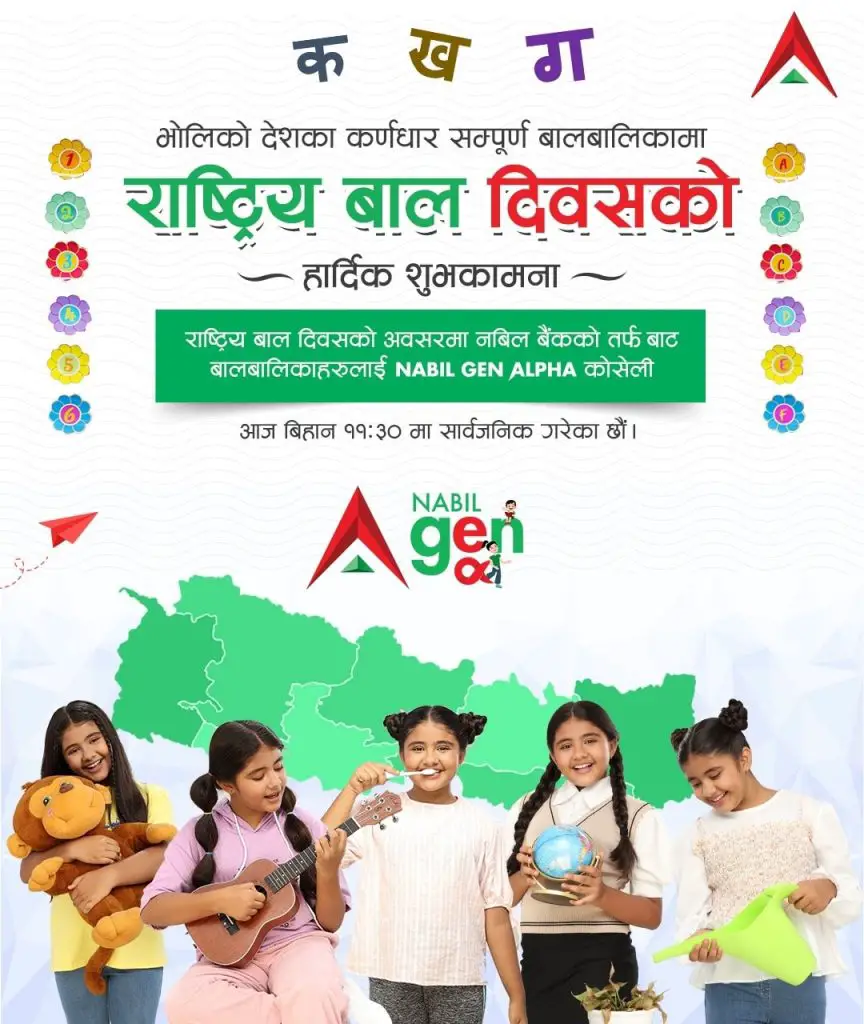 The scheme is a digital app-based saving scheme aimed at youngsters below the age of 18. Through the app, parents' guardians can set daily tasks or goals for the children. The children meanwhile can earn points after completing the tasks and get rewarded. The app lets children utilize their time on mobile phones, be part of recreational activities and learn about financial aspects.
Don't miss: Nabil Cash Machine: Allows Both Cash Withdrawal And Deposit
How do you like the children-oriented initiative by Nabil Bank? Would you be willing to let your kids learn about financial aspects through this scheme? Do share with others in the comments below.