The "Mero Karobar" app, created by Bytecare Technology, has more than 1,200 users. The "Mero Karobar" app, created by some young people from Mofasal, was made public last Wednesday. Lending transactions is a big challenge for small and medium-sized businesses. For shopkeepers who do business with hundreds, thousands of customers daily, managing transaction details on a piece of paper is a daunting task. Let's find the history of how the Mero Karobar App was developed and the features below.
Within three days of the app's launch, its package price, or license fee, has been reduced due to the interest of many users. Thousands are lost when a mouse is lost or bitten by a mouse. If someone comes to erase the old account, it takes a long time to find the account. This is the main problem for the father of Samir Phunyal of Morang. It also affected his father's business, which ran a small cosmetic shop.
That is why Samir, who knows and understands technology, was one day requested by his father to solve his problem. Samir began to investigate his father's problems. Meanwhile, he also got a team of skilled friends like Pokhrel and Kunal Shah. There was no sign of class 12 examination. While living at home in his spare time due to the lockdown, he gathered other tech-savvy friends like himself and set up a software company called Bytecare.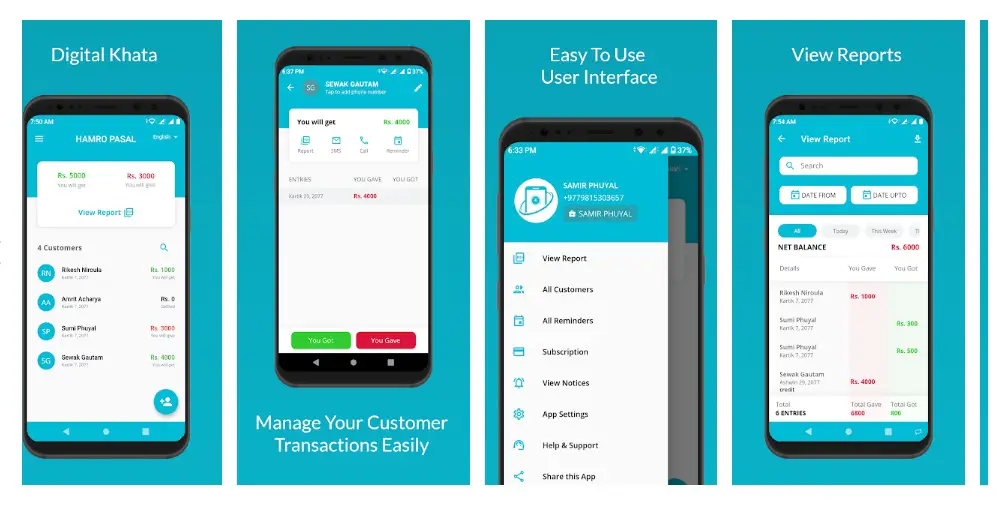 Features of Mero Karobar App
Here are the features of Mero Karobar App for keeping Digital account of business like shopkeepers.
Create a digital account (Khata) and Keep the record of transactions.
Customer Reports can be viewed and downloaded
Record of the money to be collected can also remind you of collecting it sooner.
Nepali Language Support
Offline and Online
Safe and secure record of data
Automated backup of data.
After about five months of hard work and research with the same company, these teenagers from Mofasal have now come up with the perfect medicine for the big problem of Samir's father and many small shopkeepers. In this app, customer's name, phone number, transaction details, and money can be kept, Samir said, "If someone says they will pay in a few days, you can also keep a reminder of that." The day after their class 12 exams, these young people have released a Nepali app called "Mero Karobar- Nepali Digital Khata"." We have created a Nepali digital account to keep a record of the shop's accounts," says Samir.
Now, this app has a package of 6 months and one year. There is a package of Rs 1,000 for six months and Rs 2,000 for one year. The price of juice is very reasonable according to the service received by the traders. For those who don't know how to use the app, they have even put a tutorial video on YouTube. They plan to expand this product from Gothgaon in Morang to benefit more traders. They plan to promote it in different places and collaborate with trusted channel partners to assist in the process of app distribution. The "Mero Khata" app has the ability to create a personal digital account and track transactions, view or download customer reports, get money reminders, automate data backups, and use the app online and offline.
Big business and companies are using big expensive software on the computer. But there is no systematic system of accounting in the small shops that suffer the most from the rest of the business. It also takes hours to find out if someone has come to pay the rest. These guys from Bytecare Company have created an app to digitize this process.
It can contain the customer's name, phone number, business details, and money. If someone says that he will pay in 10 days, Samir says that it is possible to keep a reminder. He hopes that this will make the grocery and small shop business paperless.
Since the business data can be backed up and the oldest accounts with the customer can be tracked, it will also provide a reliable basis for the overall turnover of the business. This app can be run in the Nepali language. It is available in both offline and online modes. "After loading data offline, the data syncs when you go online," says Samir.
Mero Karobar app is the first product of a newly launched software company in Mofasal. Kunal Shah, another co-founder of the company, who is looking at digital marketing of the company, says that it is being used in the subscription model so that the entrepreneurs can use their services at affordable prices and also make a living for the company. 'Users can get a free trial for up to 30 days. Normal users can also use. But after 30 days, you have to buy a license on a subscription basis, "says Kunal.
Tell us what do you think of Mero Karobar mobile app in the comment below.