Customers can now pay via Nepal Pay QR at Bhatbhateni stores after Machhapuchchhre Bank provides the supermarket chain with the QR code for mobile payment
Ending the need to carry physical cash or payment cards, now the customers can pay through the bank's M-Smart mobile banking app just by scanning the QR code.
Bhatbhateni customers can now pay via the Nepal Pay QR code for their purchases at its outlets. The cashless payment service has become available after the popular supermarket chain started a joint collaboration with Machhapuchchhre Bank which has provided it with the QR code.
The bank's Chief Executive Officer (CEO) Santosh Koirala handed over the Nepal Pay QR to Min Bahadur Gurung, Chairman of the Bhatbhateni Supermarket and Departmental Store the Nepal Pay QR at a recent ceremony.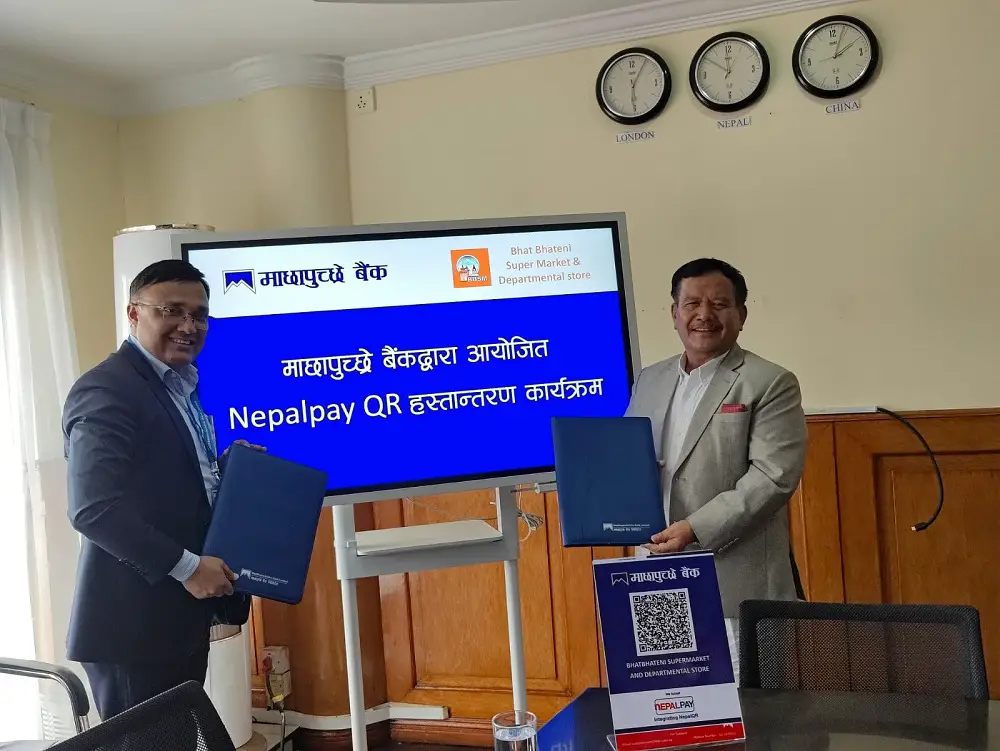 Also see: Mega Bank Integrates Nepal Pay QR | Digital Payment
Pay via Nepal Pay QR at Bhatbhateni
With the Nepal Pay QR service available, customers at the Bhatbhateni store will be able to pay for their products and services through their bank's mobile banking app MBL M-Smart.
The trend of digital payment is accelerating with more enterprises and banks joining hands to promote easy and online payment.
Bhatbhateni store is the leading supermarket chain in Nepal with 20 outlets in major cities around the country. The store records a daily sale of around Rs 5.5 crore and is also the largest taxpayer in the retail sector in the country.
Check out: Use of QR Code Grows to Withdraw Cash from Banks
Machhapuchchhre Bank provides its banking facilities across the country from the mountains to the Terai. The bank has a network of 163 branches, 157 branchless banking services, and 6 extension counters totaling 326 centers in Nepal.
The bank also has 200 ATM outlets across Nepal.  
How do you like Bhatbhateni adding the Nepal Pay QR code for digital payment services at its stores? Do share how you feel about it in the comments below.