After the announcement of the Top 5 for 4 different categories, Public voting for ICT Award 2020 has started for the same, through several mediums. Those categories are for Startup Award, Product Award, Innovation Driven Crisis Response, and Rising Student Award 2020. Now, people all over the world can vote for their favorite nominations using eSewa, SMS, and Email. Find below how to vote in ICT Award 2020 for the startup, innovation, rising student, and Product category.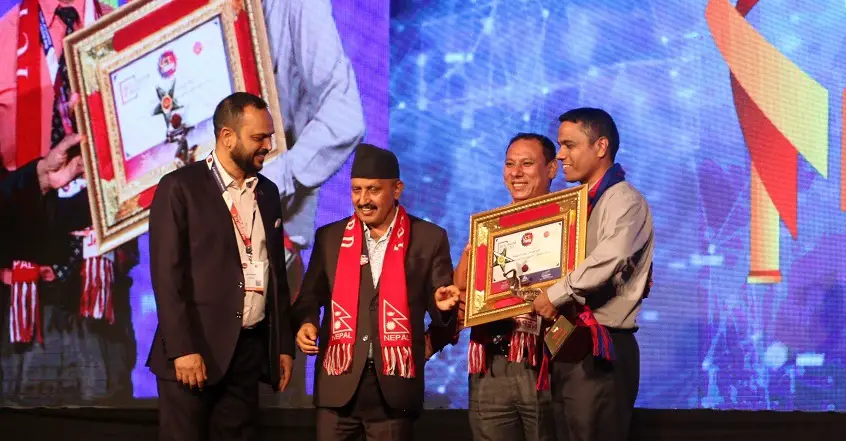 Earlier they had announced the Top five in those 4 categories via a virtual program on October 20. At that time, 14 Jury members and jury advisors were also present. The jury selected those top 5 through 3 round of scrutiny and evaluation process, which are mentioned below as:
Startup ICT award 2020
For the Startup ICT award 2020, the top 5 nominations are BizHub IT Services Pvt. Ltd., Cryptogen Nepal Pvt. Ltd., Genius Systems Pvt. Ltd., Jeeve Health Pvt. Ltd. and Nep Meds Pvt. Ltd.
Product ICT award 2020
 The best 5 nominations for Product ICT award 2020 are CPFDS, Fuse Classroom, Genius IPTV, Jeeve and Nyano Nani.
Innovation Driven Crisis Response ICT award 2020
Similarly, the top 5 innovations for the ICT award 2020 are Covid-19 Pneumonia Detection Using Deep Learning and Neural Network, Go Corona Nurse Robot, Paila Emergency Resuscitator, Sister Robot, and Thermo graphic Camera.
Rising Student ICT award 2020
Whereas for the Rising Student ICT award 2020, the selected top five student projects are 3D printing with recycled plastic, Baala : From Waste to Wealth, Sanchai Chhau, Smart Blind man stick and Smart House.
Although there are 11 categories of ICT awards, the first phase includes such nominations for the 4 categories only. As known, there are around 350 online applications to participate in the ICT award 2020 that went through strenuous selection process for two months. According to Mr. Hempal Shrestha (the Jury coordinator), they are currently conducting the second phase selection process for seven different categories.
After the second phase, they will organize the grand finale of the ICT award 2020 on the 21st Of Mangshir. Various TV channels and online media will broadcast the event live. Living with ICT, the organizer of the event has coordinated with several institutions to put a lot of effort to make the event a successful one. Some of the helping hands for the ICT award 2020 are Nepal Telecommunication Authority, NAST, Genus Solutions, Phone Pay, NITC, Rastriya Banijya Bank, eSewa, Dish Home, Eminence Wage, Technorio, Ideazar.
How to Vote for ICT award 2020?
As mentioned above, you can vote for those top 5 in 4 different categories of ICT award 2020 using eSewa, Email and SMS.
Using eSEwa, here is how you can start voting for ICT awards 2020.
First, you need to login to your eSewa app.
Visit the ICT awards section for 4 categories.
Select each genre for voting and then click the one you support in the vote.
Using SMS voting for the ICT awards 2020, you need to follow these.
You send to send a message 33001 by typing ICT and the voting code of the contestant.
Using Facebook or email, you can vote as:
As per the rule, you can only vote for a contestant at a time in a day. They will conduct the voting till the 15th of Mangshir.
After the voting, they will announce the winners for each category on Mangshir 21, 2077. ICT award was organized first in 2016, with a mission to encourage people/organizations working in the ICT field of Nepal. From then, they are awarding the top innovators and entrepreneurs/startups in this field. ICT Award is one of the most popular awards in Nepal for the information and communication industry.
We wish all the success for this ICT award event for the year 2020. Tell us what do you think if such award has any benefit for the flourishing of the ICT industry in Nepal, in the comment below?