How to Register Phone IMEI Number in the MDMS system of NTA, you might be wondering this as MDMS has gone live in Nepal. We have been hearing a lot about this system for a few years but what exactly is it? Today let's learn about MDMS and how to register a Phone IMEI Number in the MDMS of NTA along with the cost for grey phone registration.
What is MDMS?
MDMS stands for Mobile Device Management System. It is a system of the Nepal Telecommunications Authority (NTA) developed to keep track of mobile phones and tablets running on the Nepalese cellular networks inside the territory of Nepal. The system uses the device's IMEI number for tracking. In short, any device using a Nepalese SIM card is subject to be liable under the MDMS.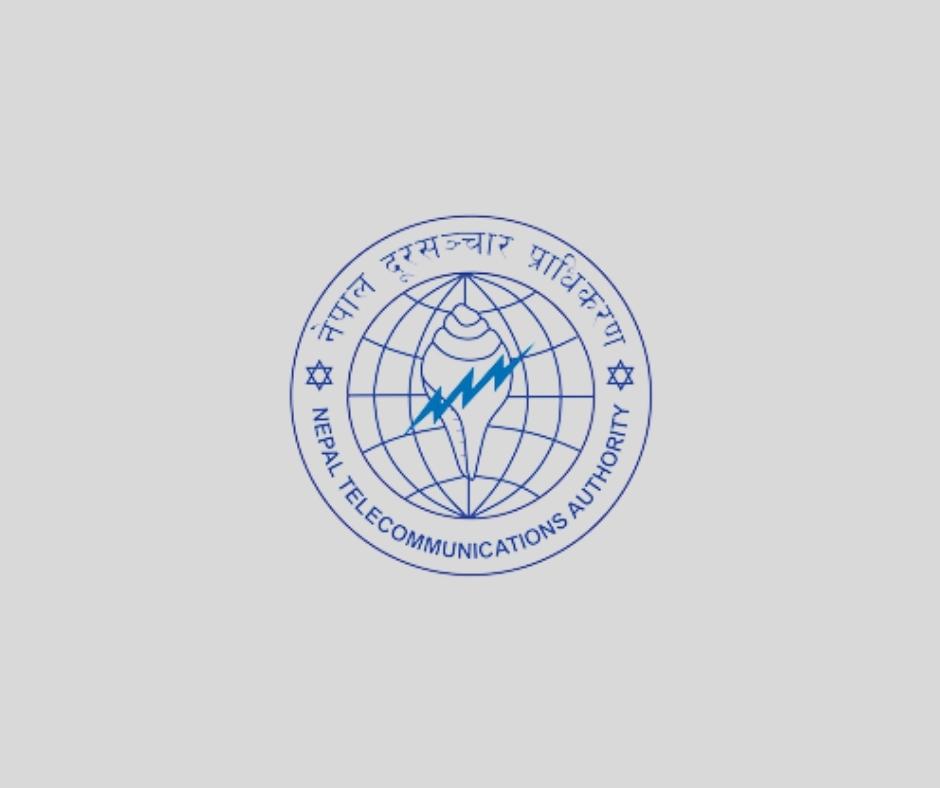 Have a Read:- NTC Launches eSIM in Nepal, Distribution Begun!
Why MDMS is implemented?
Nepal has an open border with India in the southern plains extensively. Open borders bring in more mobile phones illegally without VAT bills and official warranties. So, such activities have been actively fostering grey markets in Nepal for a long time. And it means no revenue to the government.
While through an official channel, the import process of mobile phones happens through the customs office, and the passes to nationally authorized dealers, regional distributors, local distributors, and retailers. Meanwhile, grey markets cut this supply chain and the individuals make more money by not paying taxes at all.
Hence to control the number of illegal imports and grey market, NTA has brought MDMS into play. Phones imported via an official channel will get registered firsthand in MDMS. While grey phones or phones brought from abroad will be barred from connecting to cellular networks in Nepal. That means the phone won't be capable to use a SIM card for calls and messages.
How to Check the IMEI Number of Your Phone
Before going to the main process, let's first learn how to check the IMEI number of your phone. You can go through the following process to do so;
You can dial *#06# on your smartphone Android/iPhone and it will show the IMEI number.
For Apple iPhones, you can also check by going to Settings > General and tapping About.
And look for the serial number. You might need to scroll down to find the IMEI/MEID, and ICCID numbers.
Or else, you can also look for IMEI information on the mobile box which has IMEI stickers on it.
Also Read:- NTA and NRB to Make Digital Financial Services Secure
How to Register Phone IMEI Number in the MDMS of NTA
As per NTA, the phones imported before September 15, 2022, from abroad or bought from grey channels have already been registered in the MDMS system. From that date, grey or illegal pones won't get registered in the system. However, phones gifted from abroad or bought legally from abroad and used for personal purposes will have a chance to get registered. Here's how you can register your phone IMEI in NTA MDMS;
First, go through the NTA's MDMS portal and select individual registration.
Then, you have to enter the IMEI numbers (separate with a comma if more than one), brand name, mobile model, and whether the mobile phone is currently in use or not.
Then, you have to verify your email ID by entering the OTP sent to that address.
After the email verification, you have to provide personal details such as nationality, and passport number along with the place of departure and arrival with the dates.
You should also upload scanned copies of your documents such as a passport, an entry stamp from the immigration department, etc. (The scanned file should be in .jpg or .jpeg format and should not exceed 512 KB in size).
Then you should confirm the application with a declaration at the bottom that the phones are genuine and used for personal purposes.
NTA will take some time to verify your application and will notify you via email once it is completed.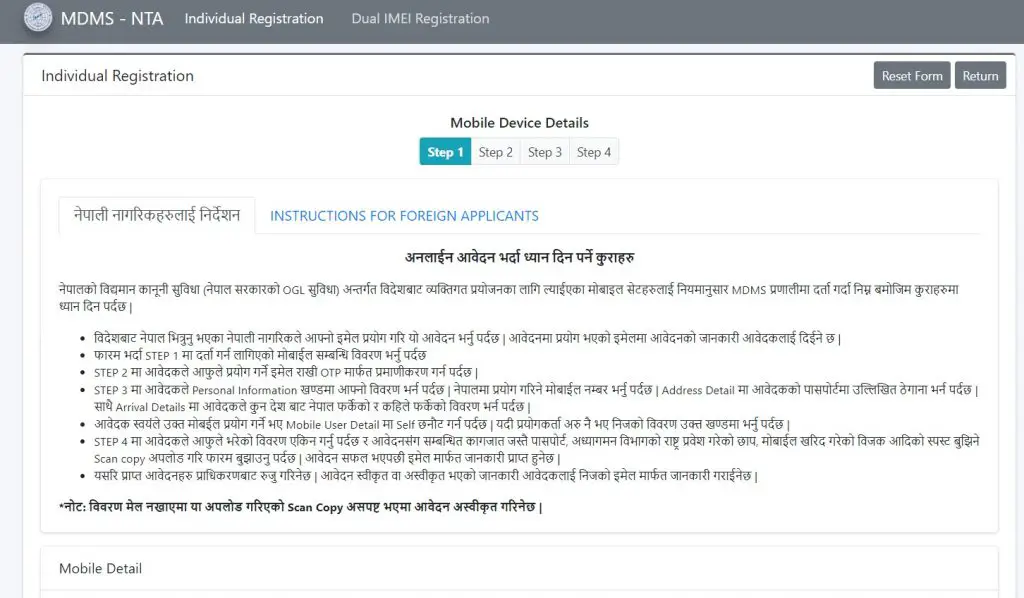 Also, Check:- How to Activate International Roaming in NTC and Ncell
If you have a grey phone (bought in Nepal or abroad) without the official documents, the Nepal government has given you a chance to register such phones in NTA MDMS with some charges. For this, you need to visit NTA MDMS Portal and select grey phone registration. The MDMS registration charges for the phones are as:
| | | |
| --- | --- | --- |
| S.N. | Grey Phone Types | NTA MDMS registration Cost |
| 1 | iPhones (Apple Brand) | Rs 10,000 |
| 2 | Phones with cost above Rs 1 Lakh (Any brand) | Rs 10,000 |
| 3 | Any phones under Rs 1 lakh | Rs 3,000 |
| 4 | Other Phones | Rs 200 |
Why is MDMS Necessary?
The introduction of MDMS will now keep a record of every phone. It helps to monitor data of legally imported mobile phones in the country. On the other hand, this will assist to track the number of grey phones in the market as well.
Not only data monitoring, but MDMS is also useful in case of stolen devices, where the owner can request to block the device directly. Which at the moment requires going to the police station, writing an application, and so on. Its implementation is to encourage the import and sale of genuine mobile handsets and to eradicate the grey market.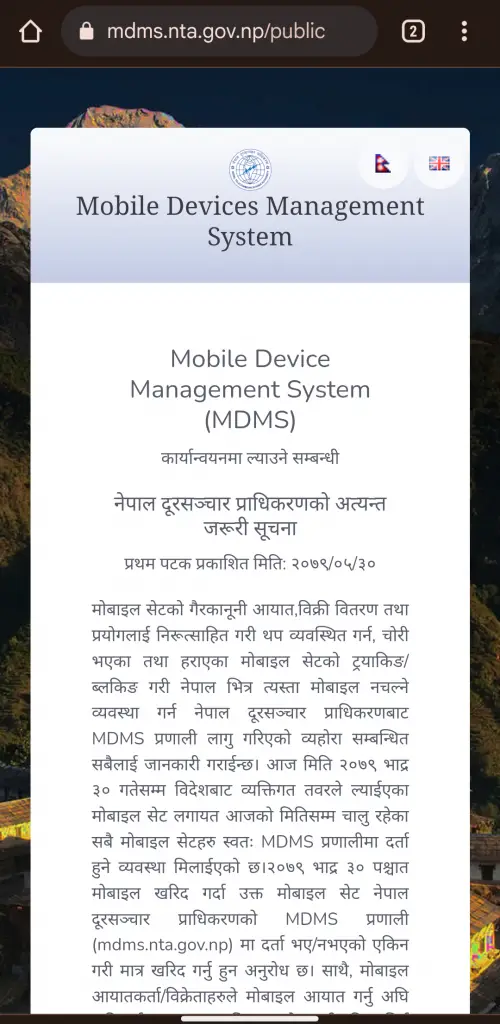 Is your device registered? Do check it here:- http://mdms.nta.gov.np
So that was all about how to register phone IMEI Number in the MDMS of NTA. It is indeed a much-needed step to control the illegal imports of mobile phones. What do you think of it? Do write us your queries, thoughts, and views in the comment section below.