QR Covid Vaccination Certificate in Nepal is provided by the Ministry of Health & Population(MOHP). This certificate has been made mandatory for foreign travel & thus carries significant importance. The present Covid scenario is bulging & many people are taking the vaccines. Today, let's learn about how to take QR Covid Vaccination Certificate in Nepal online.
Table of Contents
What's a QR Covid Vaccination Certificate?
QR stands for Quick Response which is quite popular everywhere for super quick & secured payments. The use of QR also extends to storing personal or organizational information. So, QR Covid Vaccination Certificate is a digital certificate provided by MOHP against the vaccine documents & information filled up by the user online. For traveling abroad, this certificate is a must need to fly during this Covid era.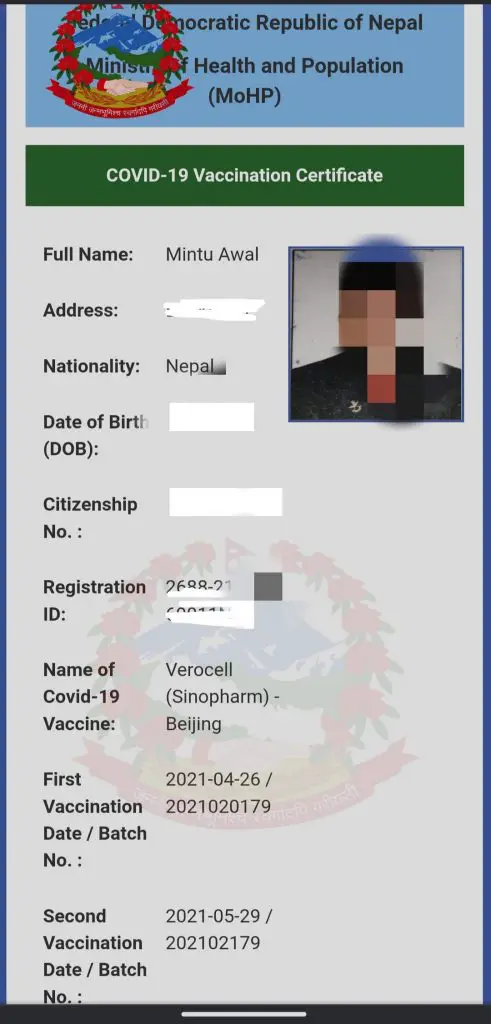 Documents Needed For QR Covid Vaccination Certificate in Nepal
Covid Vaccination Card:- The primary document needed is the covid vaccination card. For now, a vaccination card having two doses info is enough to fill up the form. As the Booster Dose program has also begun, soon booster certificate might also be needed.
Passport (If Travelling Abroad):- If you are taking this certificate to travel abroad, you must need a valid passport for the form.
Citizenship Pictures:- Citizenship is also mandatory to fill-up the form. Both front & back sides pictures are needed. (Size Under 250KB)
PP Size Photo (Digital Format):- A recently taken passport size photo is required as well. (Size Under 250KB)
How To Fill Up Online Form of QR Covid Vaccination Certificate in Nepal?
Digitization has spread all over and MOHP has also adopted it for easy & secured service for the general people. Here are the steps for filling up the online form of QR Covid Vaccination Certificate in Nepal;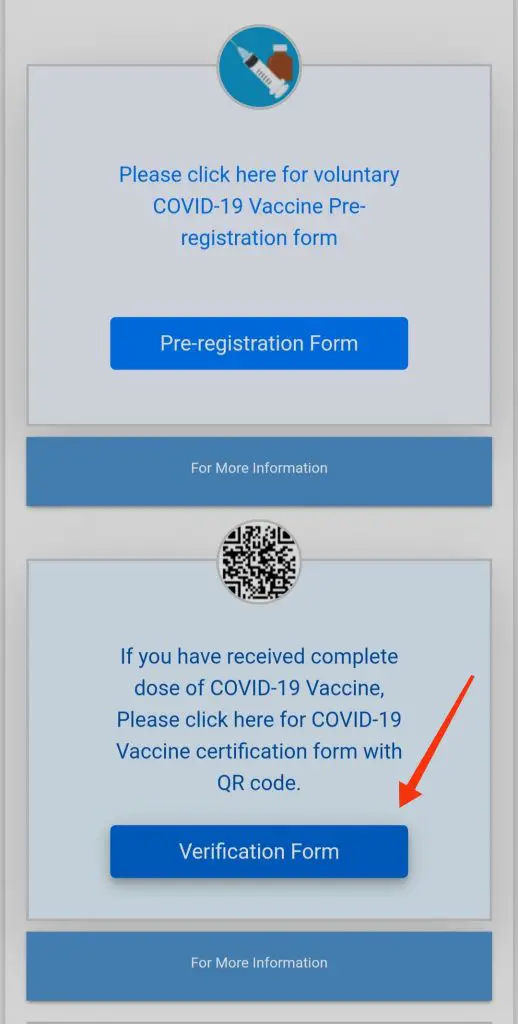 Head towards the MOHP's https://vaccine.mohp.gov.np/public-request-form website.
Select English/Nepali language for the webpage format as per convenience at the top.
There are two options to choose from; Pre-registration Form & Verification Form. Click the second option, i.e, Verification Form.
Fill up the basic information; Name, Gender, Nationality, Permanent Address & Mobile Number.
If this is for traveling abroad purposes, select 'Yes' under the "Are you going abroad immediately" option. Then fill up the passport information.
Or, if it is not for going abroad, Select the "No" Option. Then head towards filling up the information by Citizenship, Driving license, National ID, Voter's ID, Disability Card or Passport. Also, you should mention your age & occupation.
After the above step, select your Ethnicity (Janajati, Madhesi, Bahun/Chettri, etc) Email Address & Health Condition (normal, blood pressure, cancer, diabetes, chronic kidney disease, etc.) It is necessary to mention if you are having any diseases.
Then under Vaccination Status; select one of the options regarding if you have taken your vaccine inside Nepal or from abroad.
Fill in the vaccination details like vaccine type (Covishield, Verocell, Johnson, Pfizer etc), Batch Number (as mentioned on your card), vaccination date, province, district, local level government, vaccination center (the place of vaccination).
If you have taken the second dose of vaccine at the same place, select the "Same As First Dose" option, and then you just have to enter the batch number & vaccination number. If not, you have to manually enter the vaccination details under the second dose option.
Then, you have to upload Passport or Citizenship front & back pictures. It's better to have both in the same picture or uploading only the front panel works too for citizenship. (Photos need to be under 250KB)
Upload a recently taken PP Size photo & upload vaccination card photos having both doses' information. (Photos need to be under 250KB) And then select "Submit". You'll be provided a Registration Number.
You might have to wait for more than 4 days to get the QR Covid Vaccination Certificate in Nepal. Meanwhile, you can always check the status by entering your registration number & birthdate on MOHP's webiste. Or you can do that by entering your Citizenship/Passport number(Any ID number you have previously input) plus your mobile number. Once completed, you will get to view your digital certificate & can print it via using a printer. Also, the certificate stays in the online database of MOHP & you can see it anytime using your registration number.
So, this is how you can take your QR Covid Vaccination Certificate in Nepal. Isn't this handy in this time of pandemic to get the job done online? Have you taken the booster dose as well? Do write us in the comment section below.
Also Check:- COVID-19 And It's Technological Impact. How Could Companies Cope With It?