IME group launched its latest Mobile Digital Wallet "IME Pay" in PlayStore on August 16, 2021. Established in early 2001, IME Group released its Mobile Digital Wallet late but they sure did it with a bang whilst creating an overwhelming buzz in the market. With tons of features and a modern User Interface, IME Pay has already been acknowledged as a fierce of giant Mobile Digital Wallet Apps like eSewa and Khalti. However, IME Pay offers Virtual VISA Card that no one else does. In this article, we will guide you and show you, How to get a Virtual VISA card with IME Pay.
Nevertheless, a Virtual VISA Card isn't the only thing that is attracting users towards IME Pay. IME Pay offers Rs. 100 Bonus on your first load of Rs 100 as a Griha Prabesh Dakshina. This offer is only valid for first-time users. On, every Mobile TopUp, you can get Cashback up to 5 Percent. But the mobile number should be your numbers registered with IME Pay. Moreover, you get can get up to Rs 200 Bonus on every International Remittance Transaction.
Plus, you get to order food from Bhojdeals.com and get up to 20 Percent Cash Back, which is exactly Rs. 500. Furthermore, if you upgrade to Super Wallet, you can get Intrest for your money on IME Pay. For this, you will have to verify your KYC and deposit at least Rs. 1000 in IME Pay. If we start talking about offers and features of IME Pay, then our article might never finish. Let's go back to our main topic and see How to get a Virtual VISA Card with IME Pay.
Don't Miss Out On: Metro Online Taxi At Just Rs.99
What is a Virtual VISA Card
In simple words, a virtual VISA Card is a digital version of debit/credit cards. However, it's much secure than regular physical debit/credit cards. Virtual VISA Cards are powered by VISA company; One of the top fours to provide so in the world.
Visa cards are one of the most popular in the world. The company provided 343 million Visa cards in the U.S in the first quarter of 2018 while had 755 million worldwide. The reason behind this success is its acceptance around the world, as well as ATMs, are also adaptive to it. Learn How to get a Virtual VISA Card with IME Pay in Nepal below.
Quick Fact: IME Pay is the first digital wallet service to provide Virtual VISA Card in Nepal.
How To Get a Virtual VISA Card With IME Pay
To keep the steps simple, easy and understandable, we have separated all steps into different sections. In each section, we will guide you on how to complete it and get a Virtual VISA Card with IME Pay. With no further delay, let's start rolling and get a Virtual VISA card.
Install and Open IME Pay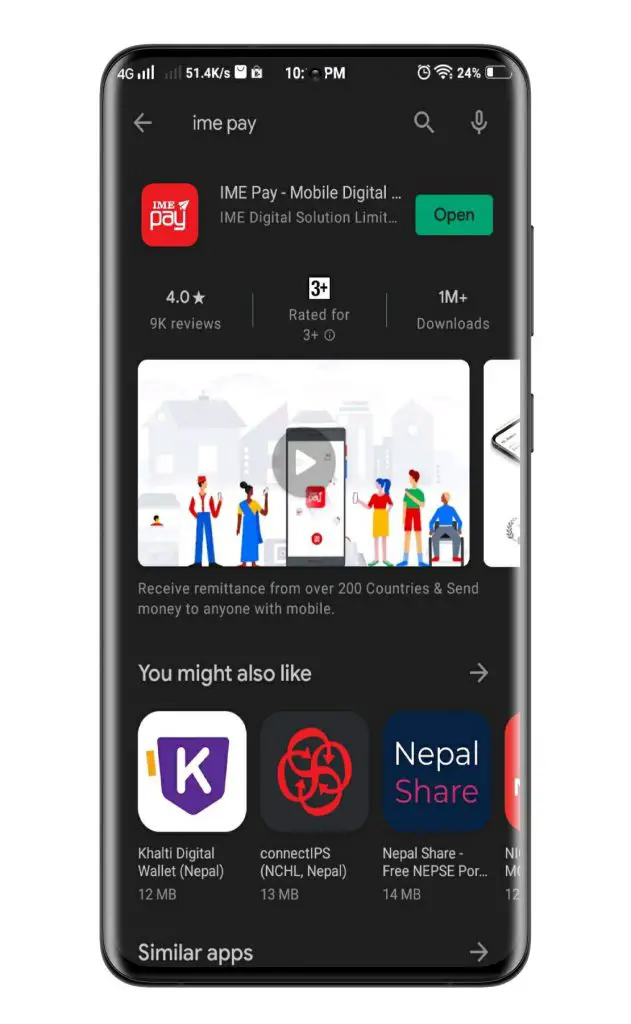 Go to Play Store or App Store
Search and Download "IME Pay"
Open IME Pay
The first step is to go to Play Store or App Store and download IME Pay. After downloading, simply open the App.
Register on IME Pay
After opening IME Pay, Click on Get Started
Enter you mobile number
Create a unique password for IME Pay
Enter your email adress
Provide all your Personal details like Name, adress and gender
Create a 4 digit Wallet PIN for IME Pay
You can easily register an IME Pay account if you follow all these steps. You will just have to enter your mobile number, create a password and fill in all the details they ask for. However, always be careful while creating a 4 Digit Wallet PIN because it is very important.
Verify your KYC
On the Verify KYC Promt box, Press on VERIFY NOW button
Enter your deatils as they ask
Upload your citizenship with a selfie
After you register your account for IME Pay, you will need to verify your account. To do this, just tap on Verify Prompt box and fill in all the details as asked. The most important part is uploading your citizenship and taking selfies. So, take your time while doing it. After this IME Pay will take about 24 hours to verify your account.
Apply for Virtual VISA Card
Tap on Card Section
Press Apply Virtual VISA Card button on the bootom right corner
Enter your 4 Digit PIN
After your IME Pay account gets verified, you will become eligible to apply for a Virtual VISA Card. You can simply tap on the Card section and press the Apply Virtual VISA Card button to move forward. Now, you will be asked to enter your 4 Digit PIN. Simply, put the code and wait for a bit. After some time, you will get your Virtual VISA card and you can click manage to see all your card details as well as transition limits.
Furthermore, you can lock your Virtual VISA Card also in the manage section which will block all the transitions. Also, your card will be temporarily deactivated. Taking screenshots of your Virtual VISA Card's details is also restricted. So never take a screenshot of your Virtual VISA Card details.
Nevertheless, IME Pay's Virtual VISA Card also has Transamition limits. The transaction limits are listed below:
Per Transaction: Rs. 25,000
Daily Transaction: Rs. 50,000
Monthly Transaction: Rs. 50,000
Don't Miss Out On: Everything About Namaste Pay
Where can you use a Virtual VISA Card?
Virtual VISA cards can be used anywhere to make online payments both locally and internationally. Furthermore, with it, you can do international payments with ease and buy goods from Alibaba or Amazon India. However, with the rule introduced by Nepal Rastra Bank, one can only make payments from such service inside the country. Plus, you will have to pay the sum in Nepalese currency; NPR.
Nevertheless, a Virtual VISA card can help a normal person, a businessman, or a person with a different profession to make online payments. This won't just help the citizens of Nepal but will contribute to the country's economy as well. Furthermore, this will help the country to move into a larger digital economy.
Don't Miss Out On: Cryptocurrency Illegal in Nepal
Conclusion
IME Pay's Virtual VISA Card will likely end the hassle of carrying around a physical debit/credit card in near future. Steadily, Nepal and Nepalese people are shifting towards a broader society where digital payments are taking over rapidly. As the day passes by, Digital Wallet users are increasing. Thus, this is making our country more digital and modern.
We hope IME Pay's Virtual VISA Card user increases and people get used to it so that everyone would be able to take benefit from it. Also, this surely motivates other Digital Wallet service providers to include Virtual Debit/Credit Cards or other such advanced services related to making online payments and transactions.