Nepal's prominent smartphone app Hamro Patro has obtained a license for remit service from Nepal Rastra Bank. Already flush with super features and a record of 10 million downloads, the remit license has earned it a super app status.
Hamro Patro Remit Private Ltd. received the license from the federal bank will extend its remit services at a cost-effective and convenient measure.
This authorization allows Nepali and foreign citizens to send foreign currencies to Nepal.
The federal bank says it issued the license to Hamro Patro pursuant to the Foreign Exchange (Regulation) Act, 2019. The license is valid till December 13th.  
You can use Hamro Patro's remit service on its mobile app on both Android and iOS. Download links for the app are given below:
Hamro Patro App: Android | iOS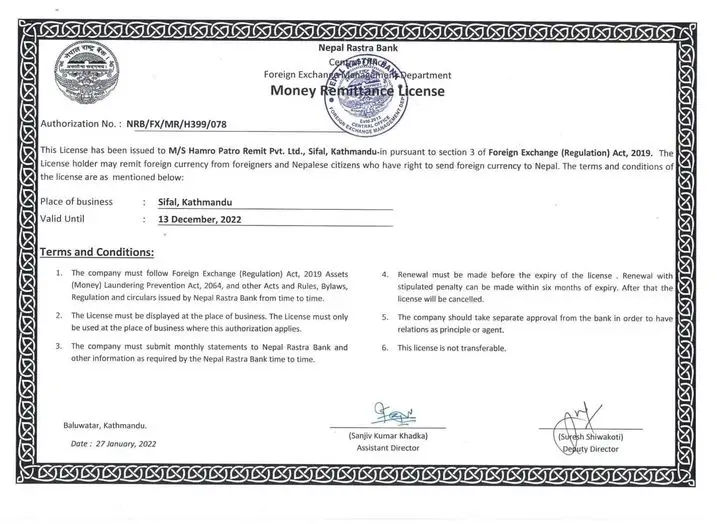 Meanwhile, the company launched its Remit service back in September 2021. However, the service started with only the expatriates in the US being able to send money to Nepal from the app.
In its two months of service, the company remitted Rs.10 million to Nepal. Now, with the new authorization and more countries added, its remittance service will likely reach further milestones.
Also read: Hamro Patro Launching Call and Video Call Feature
About Hamro Patro's Remit Servce
Remit service has remained one key service ambition for Hamro Patro and the company has made it more cost-effective to lure in more users. The company also wants to subside illegal channels as Hundi by serving an official route to remit money for Nepalese abroad.
Rudra Pandey, the company's new Chairman of the Board of Directors took to the blog on November 12 and offered his insights and prospects for Hamro Patro's remit venture.
He wrote that sending money to Nepal is cumbersome and unpleasing for many because the banks and remit agencies charge high amounts for their services which encouraged unauthorized channels such as Hundi and others.
He says that a better, easy-to-use, cost-effective money transfer facility" would bring more remittance through legal channels and Hamro Patro will fill up that void in-between. He also likens its service to Venmo in the USA.
He later adds that the company "will gradually extend our services to other parts of the world" hoping that it will "strengthen Nepal Rastra Bank's ongoing focus to promote remittance through formal channels and believe this will be an excellent service for the nation."
With the Remit License, its more than an app
Since its launch as a calendar app in 2010, it has added an exhaustive set of features and services which transcends its profile beyond just a calendar app.
Servicers such as horoscope, exchange rates, latest news, stock market, radio among many others are available. Recently, it began a telehealth service that allows users to book an appointment with a doctor online.
Hamro Patro will continue to add more services to propel itself as a super app.
How exciting is this news to you that Hamro Patro's remit service is now licensed by Nepal Rastra Bank? As it promises a cost-effective and hassle-free service, will you choose it when your remit next? Do share your opinion in the comments below.