Hamro Patro seems unstoppable in adding more features to its mobile app. The newest feature to come with Hamro Patro is the Calling feature which enables call and video call within the app itself. Let's find more of Hamro Patro's latest feature with call and video call.
Hamro Patro recently added the gifting feature called Hamro Gifts through which you can send gifts to anyone in Nepal. This is most useful for people living abroad. As Hamro Patro is popular among Nepalese living abroad, it will beneficial for them to make a call to Nepalese friends and family using this call feature.
Founder of Hamro Patro, Mr. Shankar Upreti shared his excitement in his Fb status with a picture of the Hamro Patro call feature. There, you can clearly see the switch to video feature which suggests the presence of video calls in the mobile app.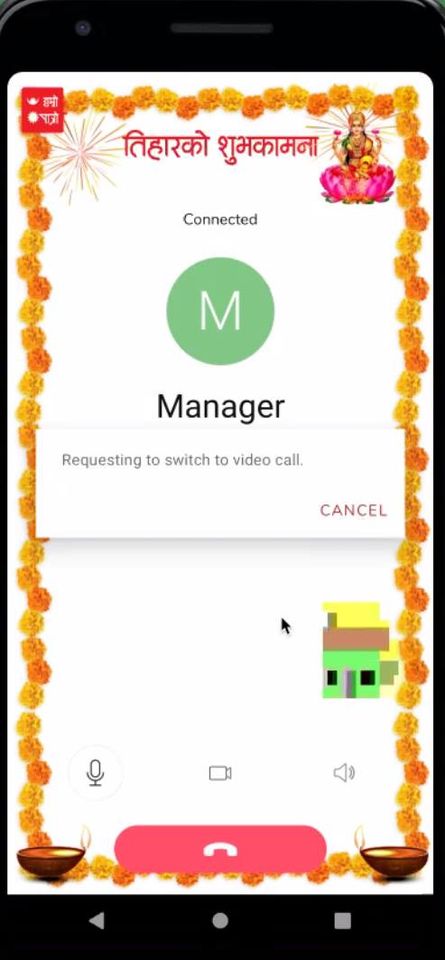 The calling feature of Hamro Patro is almost ready to launch within the Android mobile app. As soon as they find the feature to be full-proof, they will launch it immediately which could happen before Tihar. The presence of Tihar's wishes in the snapshot suggests this immediate launch.
Setopati also reports of the call/video call by quoting Hamro Patro Project Manager Ms. Sudina Gautam as "Now you can make call/video call and message with Hamro Patro app. We are in the final stage of the feature testing, after which the feature will launch before Tihar".
Well, at first, the call feature will land in the Hamro Patro android mobile app, and then it will arrive on iOS. If you are an Android user, you could find the feature anytime soon, which could be a public beta.
At first place, it may sound that the Hamro Patro is overloaded with so many features that it may overshadow its original calendar feature. But it is highly benefical for the people to get all of such features at one place or one platform or application considering their convenience and literacy. As all of the people may not be able to get those features by searching it in app stores, providing one app for all solution fits for them.
Significance of the Hamro Patro Call feature
Well, this calling feature is most advantageous to all those people living abroad who want to make a call to their family. You can simply install the app on your parent's mobile and they will be able to make or receive a call through the Hamro Patro, whenever they want.
We shall provide more information about the Hamro Patro calling feature once it is made available to all. Considering the literacy rate and the inability of people to find useful features, Hamro Patro is a savior to them. Hamro Patro currently features many services like News, Horoscope, TV/Radio, Call to Doctor, Nepali Keyboard, Forex, E-cards and many more.
Tell us what do you think of the Hamro Patro call feature and the availability of whole range of services in a single app alone, in the comment box below.