A new ride-sharing app Gyre has launched marking the occasion of International Women's Day on March 8th. In the growing market of ride-sharing apps, this one has one distinguishing feature – it allows a female to book a ride with a female driver.
Users can use the Gyre app to book a ride on both taxis and motorcycles.
The app is useful for women who prefer a ride with another fellow woman for safety and comfort. The gender discomfort can be awkward to some, but having the ability to select female riders could be a genuine relief to many female commuters.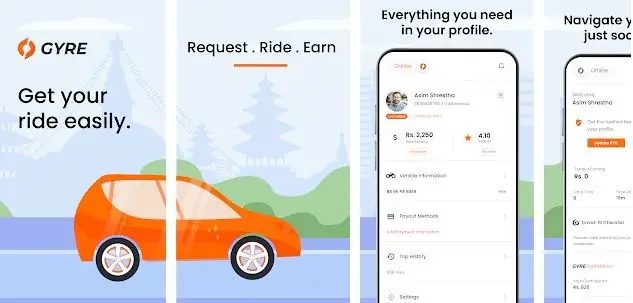 "Many females who use ride-sharing app for commuting may feel uncomfortable riding with male riders. This is why, we have launched an app that makes a female to female ride possible", the Business head of the company Sanjay Kumar Barakoti said.
This women-friendly ride-sharing service has a feature named 'Pink'. He said that if the user wants a female rider or a female rider wants a female user, then he can travel with only one woman by clicking on that option.
Related: Pathao Vs Tootle, Which Ride-Sharing Platform is Better?
With Gyre Pink
Gyre app features an option Gyre Pink – a color that has a connotation for females.  The feature allows female app users to hail a ride with female riders. If a woman wants a ride with a woman for any reason, she may choose the Gyre Pink option without a hitch.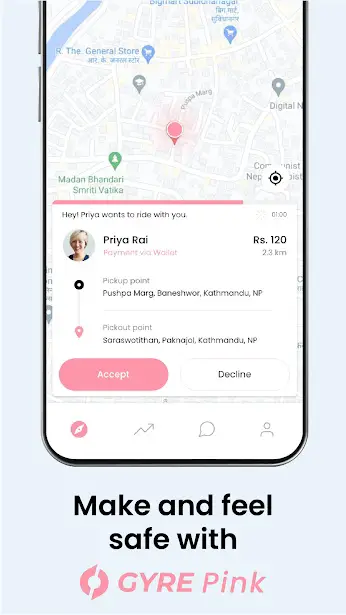 The app also has a Gyre Premium service. The users can subscribe to it for elevated services.
Another highlight of Gyre is that users can hail a ride by borrowing points that are collected by other users. The points can be collected by playing quizzes that come daily in the app. Barakoti says the first riders to join the network won't be charged a commission by the company. He also said that Gyre offers cheaper rides than other existing ride-sharing platforms.
At the moment of writing, the app has over 3,000 riders on its beta version. The service would soon launch in Pokhara, and Biratnagar, possibly within a month. Besides, ride-sharing, the company has plans for a food and delivery service through the app. But the company says, it could substantiate in the next 6 months.
Don't miss: Metro Online Taxi Begins Service: Book Your Ride At Rs.99
The company says the Gyre app is capable of quick delivery for its passengers. Likewise, Gyre Foundation has been set up to offer health screening and financial assistance to the riders.
What do you think of this female-friendly ride-sharing app Gyre? Do leave your opinions in the comments below.