Nepal's largest payment service operator FonePay has launched New Year 2023 offer. Titled "Win Unlimited Shopping", the campaign is brought on the occasion of Christmas and New Year celebrations.
The campaign is valid from 23rd Dec 2022 to 1st Jan 2023.
In this offer, three lucky customers will have a chance to win unlimited shopping within one minute. They can buy any amount of goods from the Grocery Section (excluding alcoholic beverages) at the set time and venue. All that participants get within the minute, they get for free.
The digital payment giant expects that the offer rewards its customers with the ultimate shopping experience.
Also read: Use FonePay to Pay for Boating at Phewa Lake, Pokhara
Who are eligible for the FonePay New Year 2023 offer
Users of the FonePay app will be eligible for its New Year offer. If you want to participate, all you need to do is download the app and accept the Win Unlimited Shopping challenge.  
Then you need to complete the challenge by starting either FonePay QR, Fund Transfer, or online payment via a mobile banking app or wallet which are tied to FonePay's network.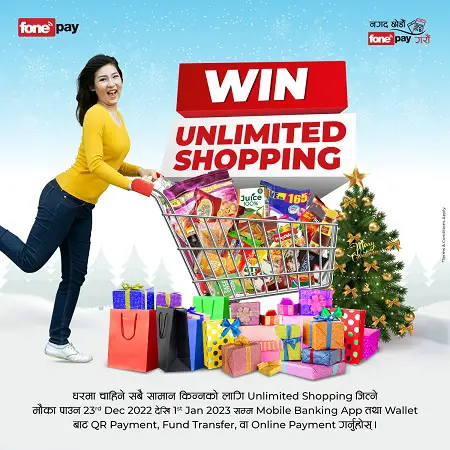 The only thing you need to keep in mind is that the duration of the offer is limited. So, you need to hurry up and maximize your chance of unlimited shopping with FonePay.
To participate and win, you need to be of at least 18 years of age or older and a Nepali citizen. The condition rules out employees of F1Soft International, its parent company, and its advertising and promotion agencies.
Check out: Top 5 Digital Wallets in Nepal: Updated (2022)
Winners announcement
FonePay will announce winners on its social media platform. The first winner will be chosen from among the users who perform transactions through FonePay between December 23-December 25.
Likewise, the second and third winners will be decided from those who make transactions via FonePay from December 26-December 28-December 29-January 1, 2023.
Let us know if you have queries in the comments below.