Nepal's largest payment network Fonepay and LankaPay, Sri Lanka's National Payment Network have reached an agreement for cross border interoperable payment system. The two leading digital payment service providers signed a Memorandum of Understanding (MoU) to collaborate on a strategic partnership to revolutionize the digital payment landscape by developing an interoperable digital payment system that allows users to perform transactions across the two countries.  
Mr. Diwas Kumar Sapota, the CEO of FonePay, and Mr. Channa De Silva, the CEO of LankaPay signed the MoU papers in the presence of the Chief Guest, Ms. B. Nilusha Dilmini, Charge d'Affaires, a.i. & Head of the Chancery, Sri Lanka Embassy in Kathmandu, Mr. Daniel D. Shrestha, Director of Group Strategy, F1Soft Group, and Mr. Biswas Dhakal, Chairperson, Fonepay and President, F1soft Group.
Also read: FonePay To Bring Its IPO, Foundation Work Has Begun
Nepal and Sri Lanka cross border payment
The cooperation means Sri Lankans, while visiting Nepal can make instant payments using QR to the merchants of the FonePay network, using the mobile application authorized by LankaPay. Likewise, Nepali citizens can also make payments for goods and services in Sri Lanka using FonePay authorized payment apps.
All travelers, who are initially the users of either of the network's applications, can make cross-border payments across merchants of these two networks in an affordable and convenient manner.
Check out: Top 5 Digital Wallets in Nepal: Updated (2023)
"to unlock new opportunities, enhance financial inclusion, and create a thriving digital economy"
Welcoming the guests and delegates at an event, FonePay CEO Mr. Diwas Kumar Sapkota, said, "
This collaboration signifies our commitment to leveraging technology to unlock new opportunities, enhance financial inclusion, and create a thriving digital economy. By joining forces, Fonepay and LankaPay are paving the way for a brighter future, where innovation and interoperability propel the economic growth of our countries to new heights. This partnership is of vital importance to us. We will be serving not just Nepal, but one of our closest South Asian neighboring countries, Sri Lanka, also in helping make cross-border digital payments fast, secure, and easy."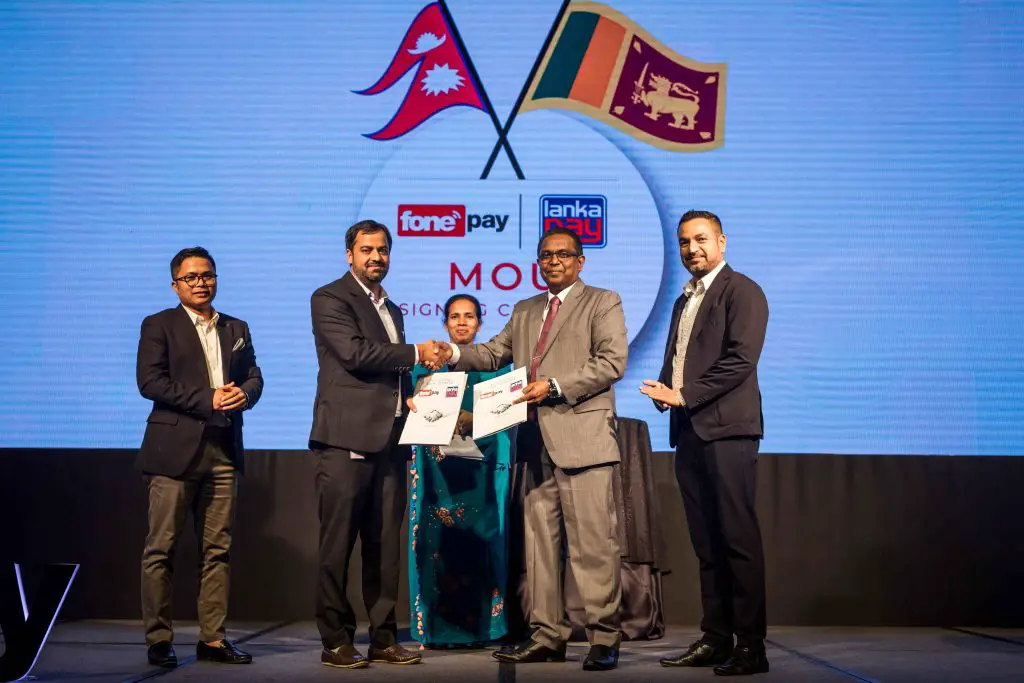 Sharing the delight in an equal manner, LankaPay CEO Mr. Channa de Silva, said, "We are thrilled to embark on this journey of interoperability with Fonepay, as it marks a significant milestone in our mission to revolutionize digital payments in our country. This strategic partnership reflects our shared vision of creating a seamless and inclusive payment ecosystem for our customers. By bridging the gaps between our respective platforms, we are opening up a world of possibilities and empowering individuals and businesses to transact effortlessly."   
"This strategic partnership reflects our shared vision of creating a seamless and inclusive payment ecosystem for our customers"

LankaPay CEO Mr. Channa de Silva on FonePay and LankaPay cross border payment system agreement
Mr. Daniel D. Shrestha, Director of Group Strategy of F1Soft Group (parent company of Fonepay) expressing the group's intent to go global, said, "This MoU signing with Sri Lanka's largest payment network is part of our philosophy and long-term strategy to try and replicate the successes we have jointly achieved along with our partner BFIs and other actors of the ecosystem since our inception in 2004 in Nepal, now outside of Nepal. In our pursuit of international expansion, we are confident that we will not just have opportunities to take our homegrown technologies and know-how in the international market, but we will also have ample opportunities to bring in internationally successful technology solutions and know-how to Nepal."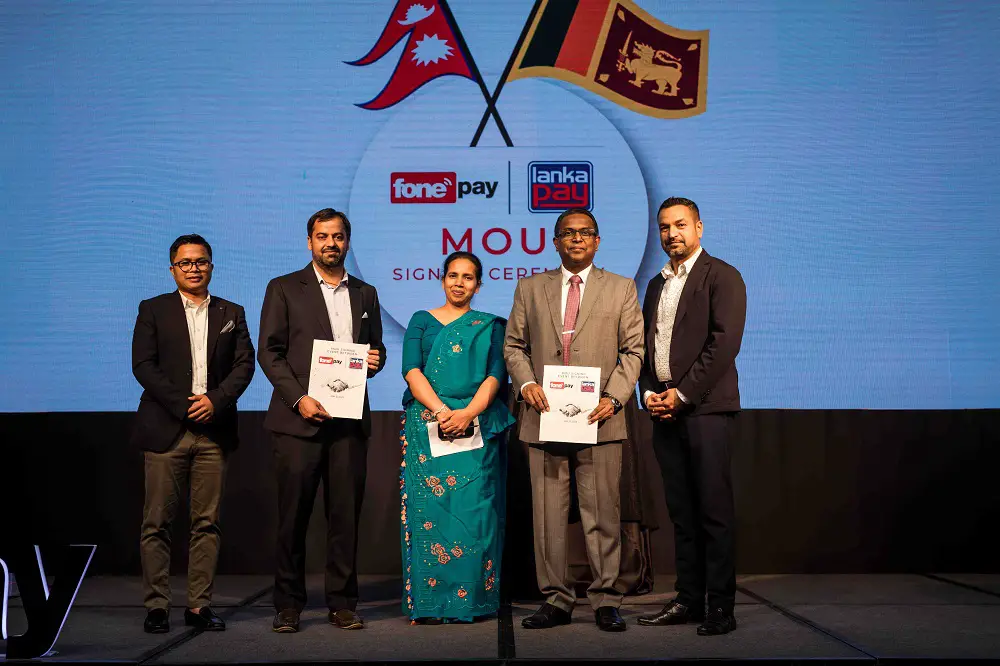 Chairperson of Fonepay and President of F1soft, Mr. Biswas Dhakal, expressed similar excitement and said in his closing remarks, "This marks a historical step towards achieving interoperability in the digital payment space not only for Fonepay but for the entire country. The interoperability between Fonepay and LankaPay is not just about convenience; it is a catalyst for economic growth. We would like to thank the Central Bank of Nepal for its support in realizing our ambition to establish a cross-border payment network with Lankapay. We also urge the two governments to work on intensifying efforts to increase cross-country tourism, trade, and commerce now that we will have a foundation of interoperable payment systems between the two countries."