A flying car developed by Chinese electronic vehicle manufacturer Xpeng Inc made its first public flight in Dubai, United Arab Emirates. The aircraft called X2 flew for a remarkable 90 minutes marking a potential new era in the automaking industry.
Xpeng is also working on launching electronic aircraft in international markets.
Called X2, the car has two seats and is a vertical take-off and landing vehicle (eVTOL) aircraft that gets its lift from eight propellers. There are two propellers at each corner of the car.
Xpeng says X2 can fly at a top speed of 130 km (80 miles) per hour.
The manufacturer celebrated X2's 90-minute flight in Dubai as an "important base for the next generation of flying cars."
Also read: World's First Electric Plane Alice Takes Off, 250 Miles Range
The flying car X2 flight in Dubai is a part of larger goals
"We are making step-by-step (moves) to the international market," said Minguan Qiu, general manager of Xpeng Aeroht. "First we selected Dubai city because Dubai is the most innovative city in the world."
The enthusiasm was mutual. "The first global public flight of the X2 flying car will change the game of future mobility. The flying car is the epitome of ambition, innovation, and a future-oriented vision that has always inspired Dubai and its leadership. Today, we witnessed a historic moment that will define the next 50 years," said Dubai International Chamber of Commerce Acting President and CEO Hassan Al Hashemi.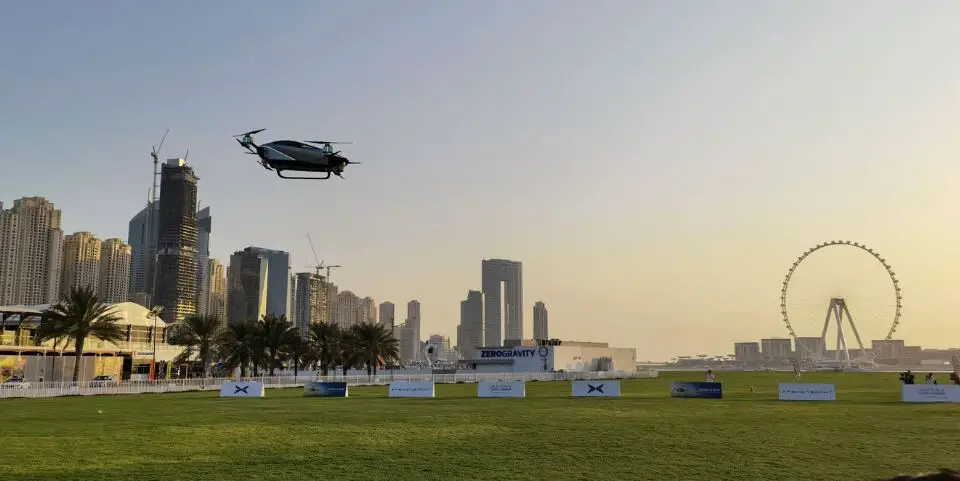 While X2's recent flight was unmanned, the company says the car conducted a manned flight test in July 2021.
The X2 is a fifth-generation electric aircraft by Xpeng Aeroht. The vehicle is made of lightweight carbon fiber and features a two-passenger cockpit and an aerodynamic teardrop-shaped design.
Check out: Best Electric Cars Price in Nepal
Electric vehicles cause zero carbon dioxide emissions and minimize fuel dependency. Such aircrafts are best suited for low-altitude, short trips.
A fully functioning flying car would bring a host of advantages against the fuel-run traditional four-wheelers but the industry faces challenges in terms of their battery life, durability, air traffic control safety, among other hurdles.
Futuristic flying cars are sounding a close possibility in today's times of EVs. Do you want such technology to substantiate quicker? You can share with others in the comments below.