Twitter's Chief Financial Officer Ned Segal has remarked that the ex-US President Donald Trump's Twitter ban is permanent.
Twitter had banned Donald Trump's account after the Capitol Hill riot on January 6th over the ground that he might encourage further violence.
The rage has been so stern against Trump that Twitter's finance chief strongly reiterated that even if Donald Trump races for presidency and wins it in 2024, the ban will stay.
"The way our policies work, when you're removed from the platform, you're removed from the platform whether you are a commentator, a CFO or you are a former or public official," He said during an interview with US channel NBC.
On January 5th and 6th, the then-president Donald Trump had drawn thousands of his supporters in the US capital Washington DC. President-elect Joe Biden was to be formally announced as the next US president, but Trump demanded vice president Mike Pence and the US Congress reject Biden's landslide victory.
Trump had long maintained that the election was stolen from him and said 'if you don't fight like hell, you're not going to have a country anymore.' In the fervor of rhetoric, thousands of his supporters stormed into the US Congressional building and led a violent attack that left 5 dead and many injured.
One of the modes of communication for Donald Trump has been his incessant use of social media. He frequently posts on Facebook and Twitter to express his political ramblings to his loyal base. He exploited the use of media in 2016 to win the presidency. The fake news is suspected to have greatly boosted his chance then. Since then, he has had everyone suspect that he may utilize propaganda again to undermine US election results.
As the riots went out of control, Twitter along with other social media sites took immediate action and banned Trump on their platforms over the risk that he might incite further violence.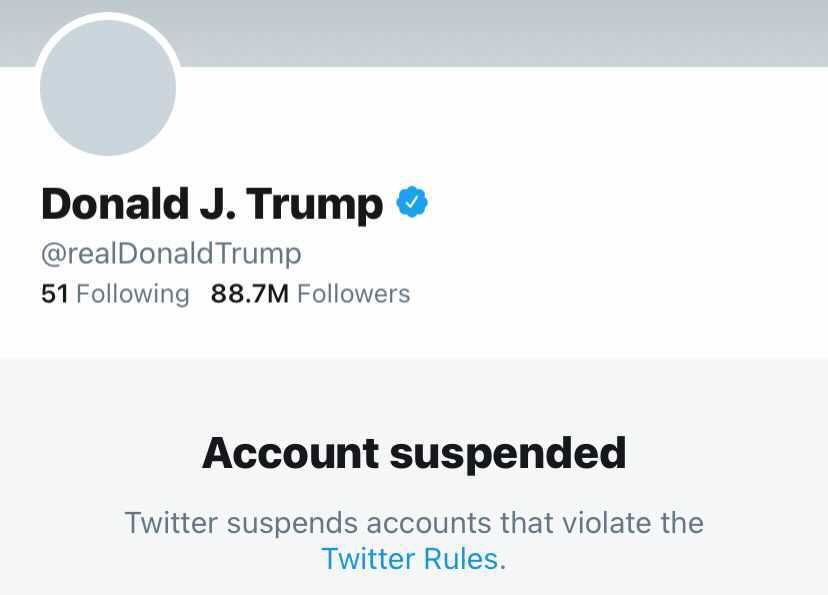 The world sees USA as the land of the free and look up to it as the pinnacle of democratic principles. But the January 6th attack by a mob brought shame to the US. Nevertheless, the attack was condemned as an attack on Democracy, and it will go down in the history as one of the infamous incident in America's glorious history of democratic evolution.
Almost all major social media have banned Donald Trump's accounts that include Facebook, Twitter, Youtube and Snapchat etc.
Before the ban, the ex-president had amassed 88.7 million followers under the handle @realDonaldTrump but after historically infamous incident, it seems unlikely that he would ever be allowed back on the Tweet platform any time soon.