Connect IPS Electrifying Offer brings Rs.50 recharge to the registered mobile number. Meanwhile, the offer also includes a bumper offer to win an electric scooter. The offer is only valid for new enrollments to the NHL's online payment platform. Find more details below.  
The offer lasts a month starting from June 15th – to July 1st (the month of Ashadh). Under this, the customers of banks and financial institutions' who join its payment system will be entitled to the electrifying offer.
If you want to earn benefits from this scheme, you can register online with your mail or a contact number for Connect IPS services. But you must be a customer of a BFI. Once you complete registration, you will get Rs.50 directly credited to your mobile number. But for this, you must verify your identity via your mobile number or an email.
Do read: Cross Border Payments with Everest Bank Mobile Banking App
Connect IPS Electrifying Offer | more details
In addition to the recharge offer, the company has also announced a bumper offer in this scheme. The winner will be announced at the end of the offer on the official pages of NCHL.
The offer is valid for new users only. To participate, register to IPC Connect at this link on the web, and register from the app.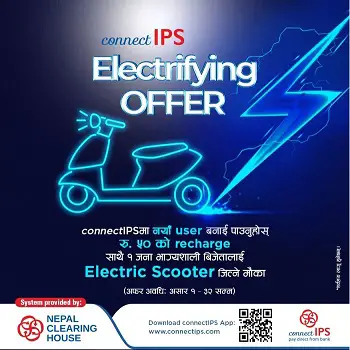 Connect ISP is an online payment system developed & operated by Nepal Clearing House Limited (NCHL). It is a single payment platform that enables bank customers to transfer funds & service payments from various platforms.
Also read: Use Connect IPS to Pay Taxes in Kathmandu Metropolitan
AS per the stats, it contributes to the transactions of NPR 10.8 billion per day on average.
leave a comment below to know more about the offer.