The number of companies paying online through Corporate Pay has increased. The payment platform developed by Nepal Clearing House Limited helps companies pay salaries, taxes, and other services online. The data shows over 55 billion rupees online transactions done by the member companies in the first 8 months of the current FY 078/79.
The data show the transactions of 55 billion in the first eight months of this Fiscal Year. NCHL launched Corporate Pay to allow SMEs and banks and financial institutions (B/FIs) to transact payments online.  
Also read: Corporate Pay Operational in Nepal: With Transaction up to 200 MN
So far the payment system has a network of 48 member banks and financial institutions and 2600 SMEs. The platform allows member institutions to transact interbank and intra-bank transfers, salary payments, vendor payments, government taxes, creditors, and other payment services.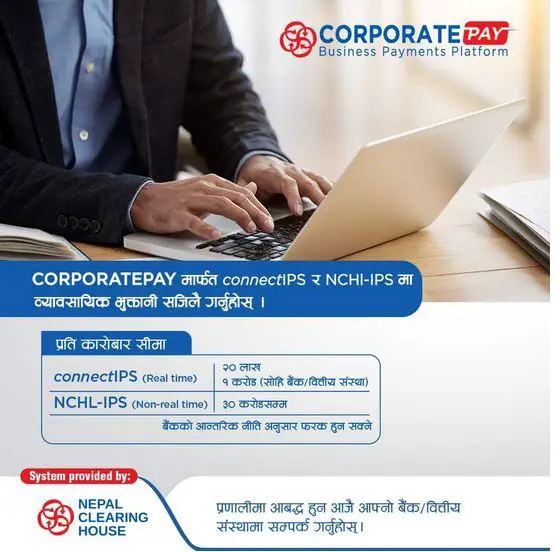 Due to the convenience, the number of companies joining the network of Corporate Pay has continued increasing. Recently, Nepal Oil Corporation, Declaration transactions of the Customs Department, and other services have begun paying online through Corporate Pay.
Through Corporate Pay, the member companies can pay real-time through connectIPS e-Payment and non-real-time bulk payment through the NCHL-IPS system.  
The system does have a threshold though. In real-time transactions through connectIPS, it allows 20 lakh per session. In non-realtime NCHL-IPS payment, it allows up to 30 crore transactions for its member institutions.
Also read: Khalti Finally Integrates FonePay Scan to Aid Digital Payment
The system allows a well-guarded medium for businesses to perform their transactions. It is Multi-Authorization and Multi-Signatories enabled system that ensures the payments are authenticated and protected.
As more companies take benefit of online payments, Corporate Pay's stakes will rise more. How do you prefer receiving your salaries – online or in cash? You can share your choice in the comments below.