The Cash Deposit Machine by NIC ASIA Bank allows direct deposit into the bank account
The machine spares people from filling in forms and staying in a queue at bank counters.
Leading commercial bank NIC ASIA Bank brought Cash Deposit Machine into operation on Friday, July 29th. The machine lets the bank's customers deposit money directly to their account machine without filling in forms. The bank has started the service at a branch in New Road, Bishal Bazar.
Driven by the motive of 'Digital First Bank', the bank started a Cash Deposit Machine service for its customers. Recently, the bank started Cash Recycler, a machine that takes deposits and also dispenses cash. With the new machine, the bank has added another service to its digital banking transformation objective.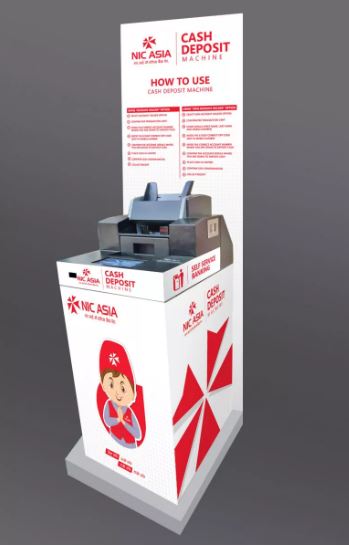 The machine allows people to conveniently deposit cash into their bank accounts without having to submit any physical forms. The customers can do so only with an active bank account.
The bank says that the machine accepts Rs 1,000 and Ra 500 bills. Customers can deposit a maximum of Rs 99,500 in a single session. Per day, a customer can deposit Ra 9,99,500 to their bank account via the machine.
Also check out: Nabil Cash Machine: Allows Both Cash Withdrawal and Deposit
How to deposit into the Cash Deposit Machine by NIC ASIA Bank?
To utilize the digital deposit service, you need to:
Enter your bank account number
After this, an OTP arrives at the registered mobile number of the bank account holder
When you enter the code, the machine verifies it and proceeds to deposit the cash
Now, you need to enter the amount you want to deposit
The machine counts the amount and instantly deposits it into your bank account
You will get a notification of the transaction through an SMS and a receipt.
The service is available at the bank's branch in New Road, Bishal Bazaar. Soon, the machine will be in service at more branches.
The Cash Deposit Machine will bring an end to the long queues at the bank counters to deposit cash.
Don't miss: Get 10 Times More on Fixed Deposit from NIC ASIA Bank
NIC ASIA Bank is one of the leading private commercial banks in Nepal. The bank has spread its banking services across the country. It has 359 branch offices, 473 ATM outlets, 102 Extended Counter, and 81 branchless banking centers.
Since its inception, the bank has filed a total of Rs 19.92 billion with the government. In the last Fiscal Year alone, the bank paid Rs 3.41 billion, becoming the highest taxpayer among the Banks and Financial Institutions.
Would you be eager to use the Cash Deposit Machine by NIC ASIA Bank for direct deposit? How convenient have you found this service for your digital banking needs? You can share in the comments below.